Learn Spanish With Stories
You can't speak Spanish by reading textbooks. The most important way to learn Spanish is listening. Now, listen to easy stories and learn Spanish the easy way. Improve Spanish speaking skills with the listen-and-answer method.
Effective Learning For Spanish Speaking
No Stress
There are no exams and fill-in-the-blank tests in our system. Learn Spanish by speaking, without the fear of making mistakes and nerves.
Listen And Speak
Textbooks are boring. Learn Spanish with your ears, not your eyes. Just listen to our fun stories and answer the easy questions.
Learn Spanish At Home
You don't need to go to expensive courses. You can learn Spanish with our audio stories at home, anywhere, and anytime.
Join our free mail course now!
You can join our free email course and download sample lessons by clicking the link below.
Download all the Spanish lessons and start learning right now!
You can transfer the lessons from your computer to your phone so that listen to them anywhere.
Improve your Spanish speaking by answering the easy questions in the story lessons.
If you're looking for an immersive Spanish learning experience, look no further than Rocket Spanish. This online course offers high-quality content, with lively and engaging lessons.
Plus, the course is designed to be flexible and adaptable to your individual needs. You can choose to learn at your own pace, and you can also join groups with other students to help support and motivate each other.
Rocket Spanish is the perfect way to boost your Spanish skills. With a well-designed course, you'll learn Spanish speaking quickly and easily. Plus, the lessons are interactive and fun, making the learning process enjoyable. If you're ready to take your Spanish language skills to the next level, click here to start your free account now!
Learning Spanish Stories Course
Listen to the story lessons, and speak Spanish with the listen-and-answer method.
Our interactive story lessons are especially great for the beginning level and intermediate level.
You can practice Spanish speaking with our interactive listening lessons.
Each audio-mp3 lesson has text in a PDF file. You can read it along you are listening to the lesson.
So you can learn the writings and pronunciations of the Spanish words.
You will improve your Spanish skills fast.
Remember, the important thing in Spanish is not knowing grammar and vocabulary, but being able to use what you know automatically. With the mini-story question-and-answer method, you will automatically gain the ability to understand and speak.
Speak Spanish Without Translating In Your Head
The listen-and-answer method is a very powerful technique. Listen to the short stories in Spanish and answer the easy questions out loud.
Repeat the same lesson every day for one week at least. With a lot of repetition, you will start to think Spanish in your head.
Download the Unlimited Spanish Course
Mp3 and Pdf files
Since all our lessons are digital (mp3+pdf), you can download them now and start learning Spanish easily and effectively right now.
3-Month Training Content
Now, you can click the button below and go to the secure payment page to purchase an average of 3 months of training, which we have prepared in the quality of private lessons, where you can learn Spanish by listening and practicing by yourself, for an only small one-time payment.
Learn English Without Going to a Course
Those who work in a busy schedule and do not have the time and financial means to attend a course have the opportunity to learn Spanish at home with our lessons.
You decide where and when you will learn Spanish. Learn Spanish quickly, effectively, and easily using the Unlimited Spanish course as we outlined in our study guide.
No exam stress, no tests, and boring exercises.
No, try to memorize word lists.
No robotic voiced content
No waiting for cargo for days, no shipping fee.
After downloading the lessons, you no longer need the Internet.
For Those Who Take a Spanish Course
Have you started taking a course to learn Spanish? This is great! However, you cannot learn Spanish without using the grammar and new vocabulary you learned in the course. Spanish is different from other subjects you take in school. You can't learn without using it. In fact, it is not a lesson, it is the most important communication tool, namely a living language.
The biggest disadvantage of the classical courses is they teach Spanish but they can't make you use it. You need to use that language you have learned repeatedly. You can improve your Spanish speaking skills very quickly by listening to the story lessons repeatedly and answering easy questions out loud.
Download Interactive Spanish Stories Audio Program!
You can have the Unlimited Spanish courses right away. Since the lessons are digital (mp3+pdf), you can download them now and start learning Spanish easily and effectively in ten minutes.
Now, you can click the button below and go to the secure payment page to purchase an average of 3-5 months of training, which we have prepared in the quality of private lessons, where you can learn Spanish by listening and practicing by yourself, for a very low price with a one-time payment.
What did real people say?
Dale
"Unlimited Spanish is awesome. It has helped me maintain my Spanish which continues to get better with each lesson. The stories definitely grab my interest and make me look forward to the next lesson. The stories make learning fun and they are easily transferable to everyday conversations.
Piotr
"I am very happy with the course because it's exactly what I need: Stories full of context, questions, and answers. The different stories of the Original Course are very interesting and entertaining. If you really want to learn to speak Spanish, please try this method. It's great, it's just great!".
Sasha
I just finished the 30-day beginner's course. I would recommend this course to anybody who wants to speak Spanish. The content is very easy, entertaining, and easy to follow. The best thing is that it's very natural, so you don't have to memorize anything, study lists of words. All you need to do is just listen and answer the questions of the audio. Now I can say I can speak and understand Spanish. I am going to Peru and I will definitely use my Spanish there!
Frequently Asked Questions (FAQ)
Is this a subscription? Will I be charged every month?
It is not a subscription but a one-time payment. Once you have purchased any of my courses, they will be yours forever in the format of PDFs (texts) and mp3 (audio files).
After payment, how do I receive the courses?
You will immediately receive an email with a link to the download page. Click on the link, then you will be redirected to the download site. There you can download the courses.
I'am at beginner level, does this course fit me?
Yes, if you can mostly understand what you read on this page, you can use the English Easy Practice course. Our course is suitable for beginners to upper-intermediate level.
Is this course useful for examinations and Spanish lessons in school?
We didn't prepare this course for examination and school. We focus on speaking skills. However, it will help your examinations and Spanish lessons in school. Because you will improve vocabulary, listening and speaking skills as well.
Which level does this course be suitable for?
Learning Spanish for beginners
Learn Spanish from scratch with grammar lectures with plenty of examples for beginners (A1-A2).
Reinforce what you've learned and new vocabulary with online Spanish lessons. With the Extra lessons, you will easily learn the meaning of all the Spanish sentences you listen to and new words.
Intermediate Spanish Lessons
For intermediate level (B1-B2), it improves speaking skills with Spanish speaking practice with mini-story question-answer lessons. You may know the grammar topics in the lessons. However, knowing the grammar topics in Spanish is not enough. You need to use them automatically. You will have the opportunity to practice on your own with the mini-story listen and answer lessons. Thus, you will train your brain to use Spanish sentence structures and words automatically, and you will gain a Spanish-speaking reflex.
People spend hundreds of hours and lots of money trying to learn Spanish. The results? Sadly, most of them can't speak Spanish.
We recommend using these great courses to learn Spanish easily. Don't use boring textbooks. Try below powerful courses to speak Spanish fluently!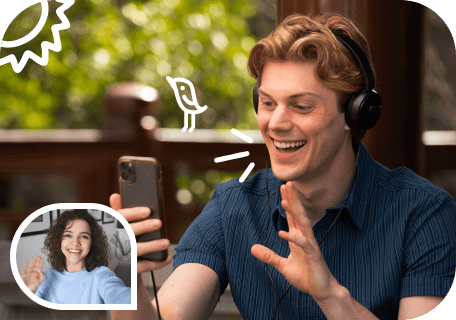 The Best Way To Learn Spanish
How to learn Spanish?
How to accumulate vocabulary?
How to learn grammar?
How to learn Spanish deeply?
How to speak automatically?
How to get and stay motivated?
Power of the stories
Learn Spanish by listening to fun mini-stories.
Stories and conversations are voiced by native Spanish speakers.
You will gain the Spanish-speaking reflex with the repetitive question-answer method.
Learning Spanish has never been so easy and fun.
We would like to help you to speak Spanish fluently. We are sure that you already know that speaking a foreign language may be very challenging. There's no magical formula.
Traditional Spanish learning systems are mainly focused on boring textbooks, useless grammar rules, and taking tests. You can learn Spanish 2 or 3 times faster than the old way.
Can you imagine that? This means you will be able to speak Spanish well in months, not in years. That's why we share the powerful methods to learn Spanish speaking on our website.
We are also sharing free Spanish listening and speaking mp3 lessons on our website. So you can improve your Spanish skills.
Learning Spanish Tips and Tutorials
You will love this grammar checker for Spanish as your new writing assistant. Spanish spellchecking from LanguageTool has grown to be a vital tool for authors, providing a thorough way to find and fix grammatical issues. I'm excited to share my experience with this...
read more